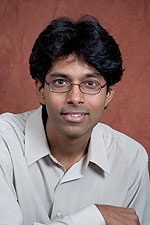 FSU's Computer Science faculty member, Dr. Piyush Kumar, was recently honored with the distinction of receiving this year's Fulbright American Scholar Award. This program was established to increase mutual understanding between the people of the United States and other countries through the exchange of persons, knowledge, and skills. There are over 8,000 grants given annually to undertake graduate study, advanced research, university lecturing, and classroom teaching. As of 2013, more than 325,400 persons–122,800 from the United States and 202,600 from other countries–have participated in the program since it began.
Dr. Kumar has been with the department since 2004 after joining as an assistant professor. He also held numerous visitations as a scientist throughout the United States and the UK in schools including MIT, Duke, and Oregon. He specializes in bridging the boundaries between algorithms and everyday life. His research revolves around taking computer theories and making them apply to real world practices.
Designations like these continue to show the hard work our department puts into recruiting faculty dedicated to making a difference in their respective fields. As this distinction puts the department's best face forward on a national level, we wish him nothing but the best on his travels.