Lecture 18: Security and Protection

Topics for Today

terminology
access matrix model
implementation of the access matrix model

Potential Information Security Violations Unauthorized

release
modification
denial of service

Aspects of Security

external = access to computer system
internal = allowed actions within the computer system

policies - how we decide what to do
mechanisms - means by which it can be done
including protection mechanisms

authentication = verification of user's identity

Implementing protection mechanisms in real operating systems

Writing a new OS from scratch costs too much
Getting people to use a new OS is difficult
New OS technology is adopted if it can be added onto an existing OS
Otherwise, it is not adopted
How to implement security?

Protection versus Security

protection -- mechanisms
e.g., putting locks on doors
security -- policies,
which specify how protection mechanisms are to be used
e.g., who gets keys? when are doors locked?
protection domain of a process

resources process can access
operations it can perform on those resources
good policy is to restrict domain to what is needed

Design Principles

economy - overhead is tolerable
complete mediation - all requests are checked
open design - does not depend on attacker's ignorance
separation of privileges
least privilege
least common mechanism
acceptability
fail-safe defaults

Example: Unix (Solaris) Protection Mechanisms

file access modes

read, write, execute
owner, group, others
set user ID on execution
set group ID on execution
enable mandatory locking
turn on sticky bit

access control lists (setfacl, getfacl)
memory protection
shared memory permissions

Protection System Models

abstract
do not necessarily directly match any implementation

Access Matrix Model

O = current objects, e.g., a file, a process
S = current subjects, e.g., a process
R = generic rights, e.g., read, write, execute, delete
P = access matrix, indexed by (subject, object)

Enforcement of Model
When subject s wants to access a to object o, system views this as request (s,a,o) to monitor of o.
Monitor permits access iff a Î P(s,o).
Example of Access Matrix
| | o1 | o2 | s1 | s2 | s3 |
| --- | --- | --- | --- | --- | --- |
| s1 | read, write | own, delete | own | sendmail | recmail |
| s2 | execute | copy | recmail | own | block, wakeup |
| s3 | own | read, write | sendmail | block, wakeup | own |
Does one actually ever store this matrix?
Implementation Methods
capability list = collapsed row of access matrix
access control list = collapsed column of access matrix
lock-key = combination
Capabilities
capability = tuple (o, P(s,o))
each subject has a set of capabilities
posession of capability confers access rights
Capability Based Addressing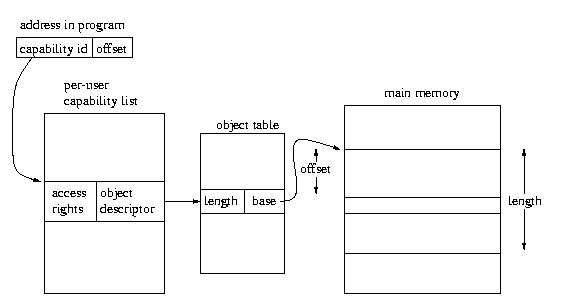 How does this relate to segmented/paged virtual memory?
Implementing Capabilities
tagged memory
partitioned memory
Capability Pros & Cons
efficiency - no need to explicit check permissions for each access
simplicity - a single mechanism, based on adressability
flexibility - can control access by granting capabilities
propagation control - can pass on rights
review - who currently has rights?
revocation - cannot revoke rights
garbage collection - when can object be reclaimed?
Access Control List
list contains pairs (s, P(s,o))
when subject s wants to access a to object o

search ACL of o for entry corresponding to s
check whether this entry contains a
ACL Example
| Subjects | Access Rights |
| --- | --- |
| Chang | read, write, execute |
| Xu | read |
| Wang | write |
| Yang | execute |
| Yu | read, write |
ACL Pros & Cons
slow access time
difficult review of accessibility, by subject
easy revocation
easy review of acessibility, by object
amenable to protection groups, which saves storage
right to change protections easily controlled
Changing Protections
self control, by owner
Can you relate this to UNIX file protection?
hierarchical control, with a tree of processes Can you relate this to UNIX process protection?
Lock-Key Method
each subject has capability list of tuples (o,k),
where k is a key
each object has ACL of tuples (k,A),
where A is a set of access modes
when s wants access a for object o

find a tuple (o,k) in s's capability list
find a matching tuple (k,A) in o's ACL,
such that a Î A.

revocation is easy